What Have I Been Doing All This Time?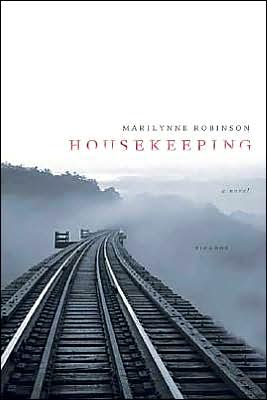 Well, I haven't been reading
Housekeeping
by Marilynne Robinson, that's what. I have no idea why not. A copy sat on my mother's bedside table the whole time I was growing up, but somehow I never got around to it.
Just to state the obvious: it is very good.
Here's a sentence, just from the beginning or so, that gives a sense of the prose:
Bernice, who lived below us, was our only visitor. She had lavender lips and orange hair, and arched eyebrows each drawn in a single brown line, a contest between practice and pasy which sometimes ended at her ear. She was an old woman, but she managed to look like a young woman with a ravaging disease.
But that's a little more flip sounding than most of the book, which is both placid and melancholy. It is a book sort of about the practice of keeping house, but actually it is about being unable to keep a house. It is about being unable to keep
anything
.
Which, let's be clear, is kind of a hard thing to read about if you're unsure about your ability to baby-make...which is an ability that, around here at least, has a lot to do exactly with the desire to have and to hold: to keep. Nevertheless, I think the book helped me worked through some stuff, and also, more professionally, have a good time imagining course syllabi I might include it in. I might pair it with
White Noise
, for example, which is also about keeping and not keeping and impermanence and feeling set loose. But this one would, I think, blow white noise right out of the water.